Open Source Music Festival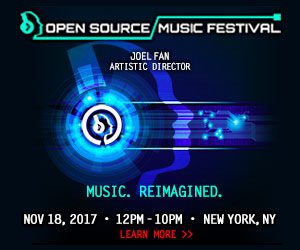 Open Source is the simple idea that we share our creative work, and allow others to build upon it freely. We've built our whole music festival around this idea.
"The open source movement is changing the world, and affects every part of our lives. As a pianist, I've always been fascinated by the way music is created – how musical ideas are shared and new musical trends emerge.The Internet and the open source movement have radically changed the way we communicate, collaborate, and powers much of our creativity today. The artists and composers featured at the Festival have won Grammys, Pulitzers, and have earned recognition throughout the world. I hope you'll join us." —Joel Fan, Artistic Director
World Keys (solo)
Joel's exploration of world and ethnic music on solo piano, from diverse places such as Syria, Turkey, Latvia, China, Japan, India, Africa, Australia, and Brazil.
Pocket Concerto Project (with ensemble)
Joel's performances of standard concerto repertoire with reduced ensembles, such as string quartets.
New Concerto Project (with orchestra)
These are unique, contemporary concerto masterpieces that deserve to be performed more often. Includes:
Daron Aric Hagen: Left Hand Concerto
Messaien: Couleurs de la Cite Celeste
Messaien: Turangalila
Bright Sheng: Red Silk Dance
Bright Sheng: Song and Dance of Tears (with sheng, pipa and cello)
New Commissions and World Premiere Recordings
Includes Joel's premieres and upcoming commissions by:
Leon Kirchner Sonata No. 3 "The Forbidden"
Transcriptions and Cadenzas
Joel's solo transcriptions of works such as:
Rachmaninoff Cello Sonata (slow movement)
Cadenza to Mozart Concerto Op 595
Sample Programs
Program #1
Bolcom: Nine New Bagatelles
Kirchner: Piano Sonata No. 3 "The Forgotten"
Bermel: Funk Studies
Carter: Piano Sonata
Program #2
Saygun: Sketch on Aksak Rhythm (Turkey)
Prokofiev: Sonata No. 3 in A Minor
Succari: La Nuit du Destin (Syria)
Chen: Instants d'un Opéra de Pékin (China)
Beethoven: Sonatas Op. 110, 109 or 101
Villa-Lobos: Alma Brasileira (Brazil)
Bonds: Troubled Water (USA)
Chopin: Sonatas No. 2 or No. 3
Liszt: "Rigoletto" Paraphrase
Program #3
Nazareth: Vem ca Branquinha (Brazil)
Villa-Lobos: Alma Brasileira (Brazil)
Bonds: Troubled Water (USA)
Bolcom: Nine New Bagatelles
Succari: La Nuit du Destin (Syria)
Ginastera: Sonata No. 1
Piazzolla: "Flora's Game" (Milonga Prelude)